We may know her as Carrie Bradshaw from the "Sex and the City", but this fabulous fashionista declared more than once that she's nothing like Carrie, except for her passion for shoes. So what else do these two style icons have in common except for their undying love for Jimmy Choo's or Manolo Blahnik's?
When it comes to celebrity fashion, SJP just like Carrie Bradshaw knows all to well how to wear a trend, as well as break the rules of fashion. Don't we all know it? In fashion, rules are made to be broken, to remind everyone how fun it is to play with prints, lines and textures.
Sarah Jessica Parker's fashion choices on the red carpet are as vast as the water sprinkles from Niagara falls. She's reportedly a size 0, and that gives her the "oh so wanted" freedom of wearing anything she wants and look fabulous in it. From micro-minis to outstanding gowns, from ballerina dresses to shorts and vintage pieces, Sarah Jessica Parker really has the skills to set some great celebrity fashion standards, proving she has what it takes to be considered a true style icon.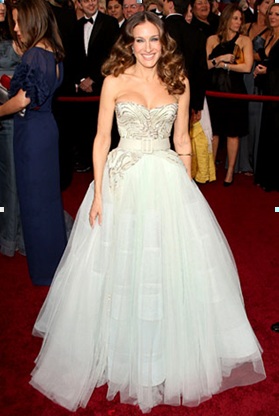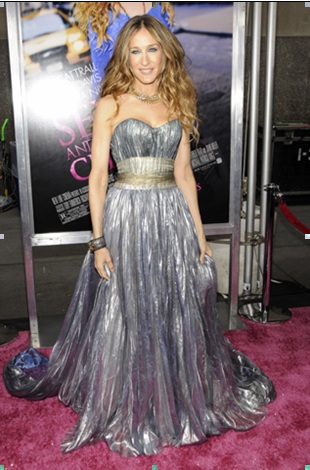 Sarah Jessica Parker's style can be described in so many words, but to be blunt, we can cut it short by saying her fashion is chic, edgy and feminine. She can rock multiple style combinations, proving her remarkable intuition and celebrity fashion courage. So whether she mixes a cute LBD with neon-pink stilettos or wears a crazy Philip Treacy hat, she always looks neat and polished, although she doesn't really limit herself to thinking right out of the box. If you're wondering what are her favorite pieces, take a look at vintage fashion or some of the designer creations coming from the genius minds that represent fashion houses like Chanel, Oscar de la Renta or Narcisco Rodriguez.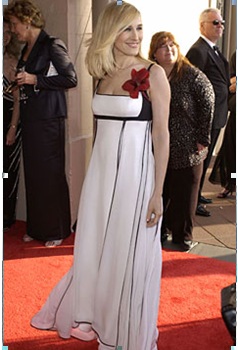 As for her casual wear, she likes to keep things simple, mixing day-to-day hoodies and jeans, but keeping the edge of her celebrity fashion by wearing funky and colorful accessories such as bright scarves and sunglasses, IT bags or some cool pairs of flats.